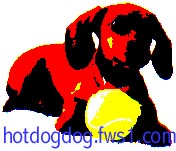 Welcome to the best
VIEWER SUBMITTED
Dachshund Pictures
AVAILABLE ANYWHERE!
---
These are the hotdogdog SHOWCASE winners
from December 2000 through June 2001.
Thank you for coming to our site!
The pictures below are from our viewers! !
---
June 2001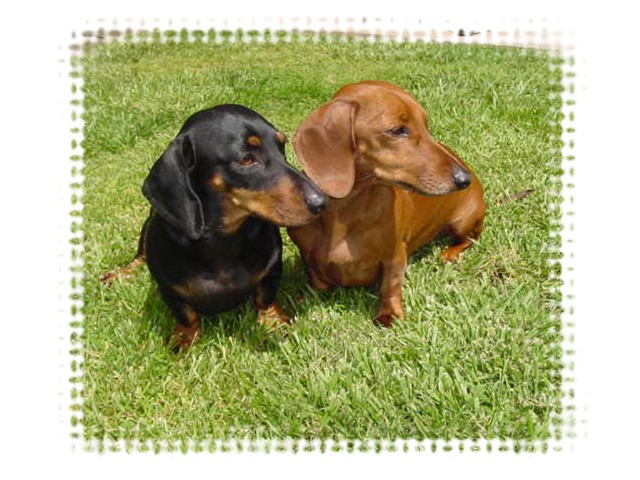 Lucy and Penny
These lovebugs are from Fresno, California.
Submitted by Susan
---
May 2001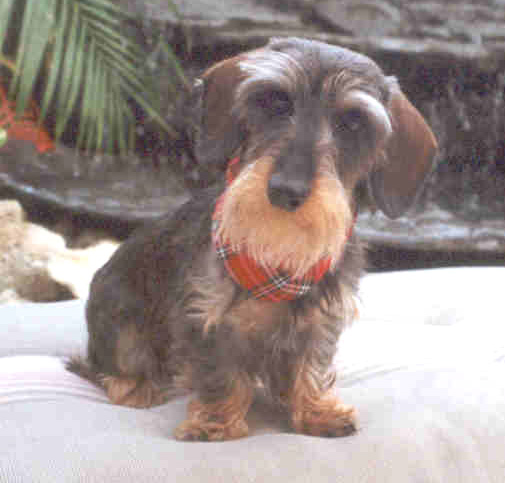 This is Bernie
Submitted by Karen of Naples, Florida
---
April 2001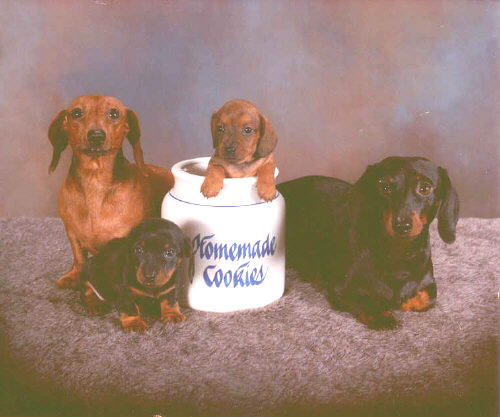 (L to R) Chloe (mom), Misty, Molly & Theo (dad)
Submitted by Jim and Betty Stubbs of Oregon
---
March 2001
This is ZIGGY.
Ziggy is from Great Britain.
Submitted by Eliverto D. Scherer
---
February 2001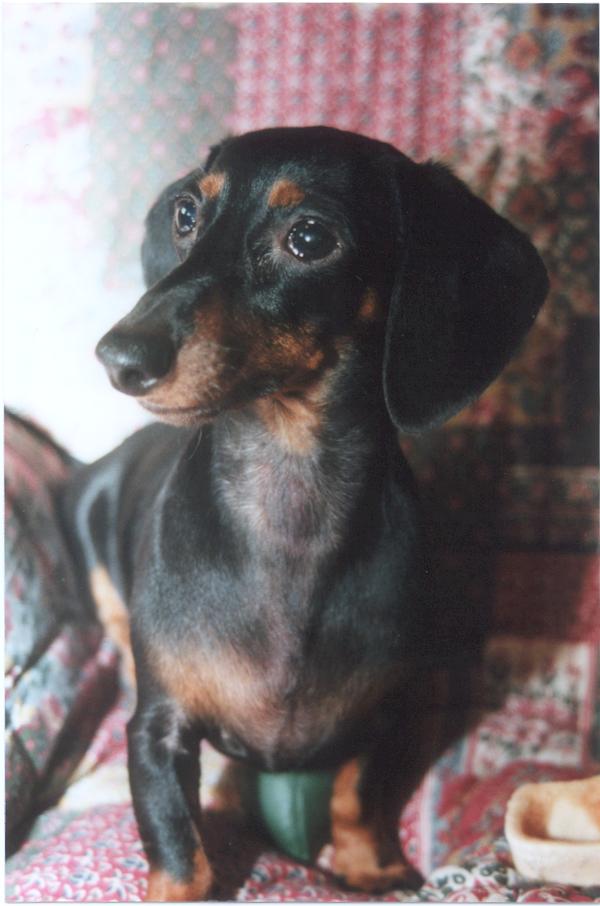 This is Sadie, a.k.a. Jumpin' Bean
Sadie was here on Earth 1/8/99 - 12/30/2000
Submitted by Peggy Marsh
---
January 2001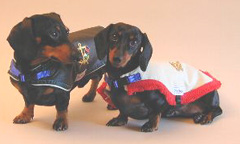 This is SHORTY and TIFFANY.
They are dressed up in their best for a night on the town.
Submitted by Susie and Larry Ormbrek.
---
December 2000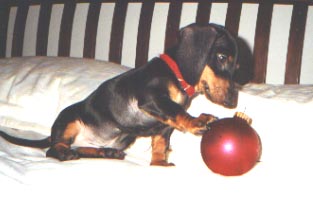 This is KOBE.
Kobe hails from Rancho Santa Margarita, California. Kobe is owned by the webmaster.
He is a black/tan smooth male mini. He is only 3 months old here - coming in at 5.5lb!
In this December photo, he is helping us decorate for Christmas. He did a great job!
---
Please help us continue our site!
Your photos are needed!
Don't be afraid to e-mail us your shots!
Its easy!
---
SIMPLE INSTRUCTIONS!
1. Take a photo. It can be a 35mm or a digital.
2. Save your photo in your computer as a JPEG file.
3. Send us an e-mail to hotdogdog@worldnet.att.net
including your JPEG file as an attachment.
We always send you a confirmation e-mail when we receive your photo.
---
When you kindly return to our site . . .
To help us count the number of visitors to this site . . . could you please enter our site through the "Home" page at hotdogdog.fws1.com
Thank you so much!